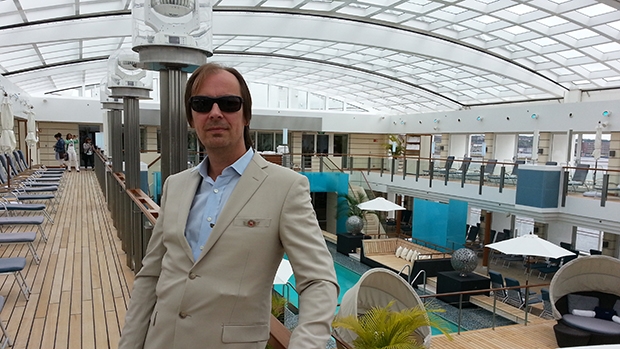 Even in our Internet-savvy times, customer service, be it either in person or by phone, plays a key role for the German Cruiseline Hapag-Lloyd Cruises. To better handle demanding clientele and travel agents during the sales process as well as to optimize complex booking processes, Hapag-Lloyd Cruises will be replacing its existing flight booking system with a more efficient, tailor-made solution.
The new system will support approximately 50 employees in the sales and product consulting center and approximately 10 employees in the flight department.
The challenge in implementing a technical solution consists of combining full charter flights, allotments and scheduled flights into one, single solution and to pass the result via an interface to the existing tour operator system. Moreover, long-haul flights have to be dynamically combined as a multi-ticket option whilst always taking the necessary minimum connecting times into account.
For the implementation of this project, Hapag-Lloyd Cruises has chosen the Frankfurt-based software house HitchHiker. Essential software modules such as the "Allotment Manager", the "Flight API" and the "Ticket Automation" have already been fulfilling the specific needs of all departments involved to a large extent.
During the past months HitchHiker has extended its "Flight" product suite to include additional company-specific requirements and has merged all modules into one, jointly designed distribution platform under the project name "ELVIS".
"ELVIS" covers functions for availability request & booking and ticketing of allotments based on published, net, corporate and cruise (tour-operator) fares. Negospace, online/offline, booking class and virtual allotments (e.g. for own full charter flights) are applied.
Furthermore, schedule-change monitoring is fully automated and a tailored back-office interface passes all flight data on to the tour-operator system.
Last but not least, another important part of "ELVIS" is the department-specific reporting to provide e.g. capacity data for yield management purposes.
To develop its software HitchHiker applies the latest industry standards:
Microsoft SQL Server, ASP.NET MVC, Entity Framework as Object Relational Mapping while using Code First for database modeling.
About HitchHiker GmbH
Working as an independent software company since 1992, HitchHiker has been successfully developing software solutions for airlines, consolidators, online portals, travel agencies and tour operators.
With over 20 years of experience in the tourism industry and numerous international projects, we have developed solutions for the entire chain of the flight tariff management process as well as numerous, powerful booking applications for all types of flights and touristic services.
For the development of its solutions HitchHiker trusts in industry standards such as Microsoft technology. HitchHiker has once again attained Microsoft Gold Application Development competency and is compliant to the Payment Card Industry Data Security Standard.
HitchHiker Press Contact:
Uta Will
Marketing Manager
HitchHiker GmbH
Berner Straße 81
60437 Frankfurt am Main
T + 49 (69) 50 70 3 0
F + 49 (69) 50 70 3 111
marketing@hitchhiker.net
www.hitchhiker.net
About Hapag-Lloyd Cruises
Hapag-Lloyd Cruises is one of Germany's foremost providers of luxury and expedition cruises. It offers four ships each with their own unique character: The EUROPA, offers pure luxury and is the only cruise ship worldwide to receive a 5-star plus* ranking for the fourteenth consecutive time by the Berlitz Cruise Guide since its commissioning in 1999. The EUROPA 2, the youngest member of the fleet, is a modern and casual luxury ship, which does away with cruise traditions such as the captain's dinner. A first for any ship, the EUROPA 2 has received the highest distinction, a 5-star-plus ranking from the 2014 "Berlitz Cruise Guide. The two expedition ships HANSEATIC (5-stars*) and BREMEN (4-star plus*) set off on a course of discovery to explore the best kept secrets of nature and culture. A journey in the luxury private jet Albert Ballin is a particularly exclusive air travel experience that completes the portfolio.
Press Contact: Negar Etminan, Leiterin Unternehmenskommunikation, Hapag-Lloyd Cruises, Tel: +49 040 307030-391, E-Mail: presse@hl-cruises.com
Read more →