Frankfurt based software manufacturer HitchHiker has recently achieved Level 3 certification by the International Air Transport Association, which is currently the highest level for IT service providers and officially demonstrates its long-term commitment to IATA's "New Distribution Capability" program.
IATA's "NDC Capable" Level 3 certification confirms that HitchHiker can send and receive offer and order management related messages in NDC format. This includes API commands for fare and availability queries, bookings with immediate ticketing, on-hold bookings with subsequent ticketing, credit card & BSP/ARC payments, re-bookings, cancellations and ticket refunds as well as seat map retrieval including availability and prices.
"Our customers are mainly online travel agencies, tour operators and business travel companies with an affinity for technology, who already rely on our years of experience with direct connections to airline systems of low-cost carriers and who are now also increasingly opting to book full-service carriers through their own NDC interfaces. The focus of this decision is mainly on the competitive advantage through attractively priced offers, low distribution system costs and additional revenues from the sale of ancillaries.
Today, we already cooperate with a number of well-known NDC airlines. Our objective is to provide a standardized interface that aggregates existing NDC interfaces, which equalizes differences between the format versions used by the respective airlines and which facilitates our customers transition to NDC through a simplified implementation process," explains Thomas Boffo, Managing Director of HitchHiker GmbH.
The certification by the IATA also represents an important first step in positioning HitchHiker also as a service provider for airlines, which will include the implementation and hosting of NDC interfaces for airlines very shortly.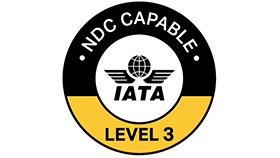 Read more →