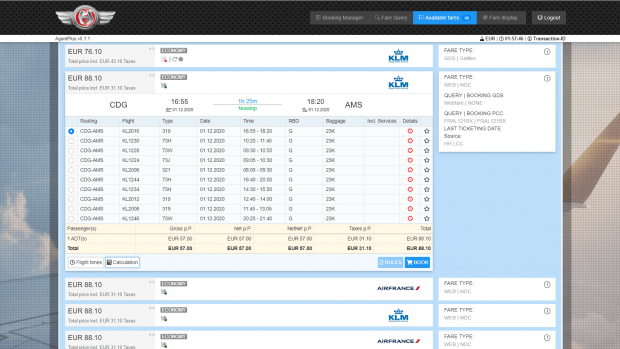 In June 2018, Air France-KLM certified the NDC connection of the Frankfurt software company HitchHiker for the first time. Now the functional scope of the interface has been expanded to include other important fare types.
Recently certified fare types are the airline's private fares. They include both tour operator, consolidator and "visit friends and relatives" fares.
HitchHiker now also supports bookings with account or corporate code. This enhancement should be of particular interest to business travel agents who want to save the airline's additional Distribution Cost Charge applied on GDS bookings.
"We are pleased to be one of the first IT providers worldwide to be able to provide the private fares of Air France and KLM via NDC and offer tour operators, wholesalers and business travel agencies real added value through our direct connection," comments Managing Director Thomas Boffo on the cooperation.
"In these difficult times for our industry, it is important that we focus on our priorities and continue to invest in strategic development areas such as NDC. In this context it is great to see that HitchHiker is one of the first providers of software solutions for the international travel industry to offer the opportunity to distribute our private fares. This is an important step to further support our joint customers", explains Stefan Gumuseli, General Manager Germany at Air France-KLM.
The airline's private, corporate and published fares can be booked via the HitchHiker Flight API and the AgentPlus booking platform. For the subsequent management and processing of all bookings, HitchHiker provides a Booking Manager, through which NDC bookings can be processed just as easily as GDS bookings made using the HitchHiker system.
Read more →